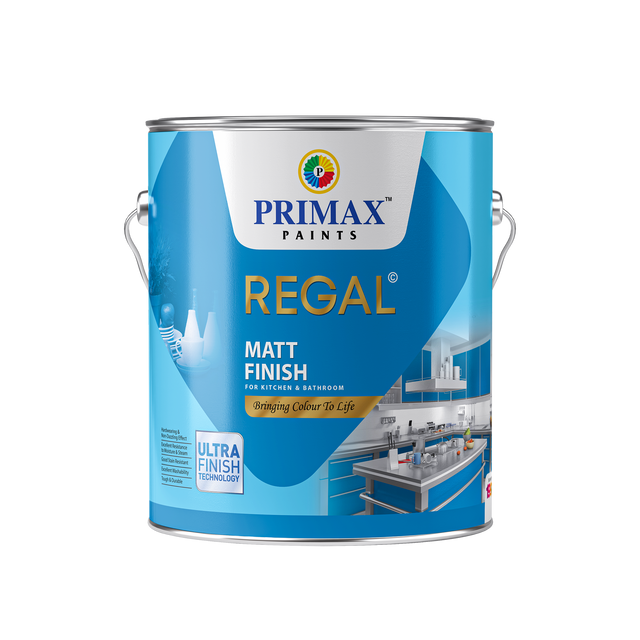 Primax Regal Matt Finish Enamel
Primax Regal Matt Finish Enamel provides a hardwearing and non-dazzling effect with excellent resistance to moisture and steam. It has good stain-resistant properties and excellent Washability.
Uses: It is suitable and ideal for interior wood, metal, and masonry works. Primax Matt Finish Enamel is especially recommended for bathrooms, kitchens, corridors, staircases, and walls.
Pack Size: 0.91L 3.64L
Color Range: See Primax Regal Matt Finish Enamel shade card
Chemical Resistance: Resistant to mild chemical fume attacks. Water Resistance: Resistance to the levels of atmospheric humidity present in a normal environment.
Composition (Nominal):
Pigment: Lightfast Pigments
Binder: Modified Alkyd Resin
Solvent: Mineral Turpentine
Flashpoint: 34 degrees C
Drying Time:
Depends on temperature, humidity, air movements, and film thickness.
Touch Dry: 2-4 Hours Dry to Recoat: 6-8 Hours
Application:
 Theoretical coverage:
A guide to the theoretical coverage achieved under normal conditions is 14-16m2/litre/coat.
Thinning:
Brush: 10-15%
spray 20-25 %
Cleaning Up:
Clean all equipment with mineral turpentine immediately after use.